It's been a challenging day at work, but you don't stop at the TV. You keep walking through the kitchen and into your backyard. You unwind with a cool beverage, tension leaves the back of your neck as you listen to the serenity of your own mountain stream and waterfall… just steps from your backdoor.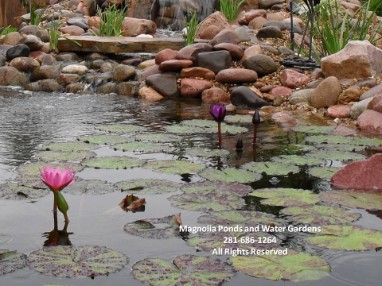 Perhaps your spouse joins you. You begin to hold hands again. You have conversations with your children… sharing the intriguing beauty of your own eco-system. It has gotten dark. The lights have come on and a whole new world of interest has opened to your family. You want to stay but it is time to take care of some of your responsibilities. You will continue your visit with your morning coffee.
Magnolia Ponds & Water Gardens does more than just build ponds. We bring families together in their backyard.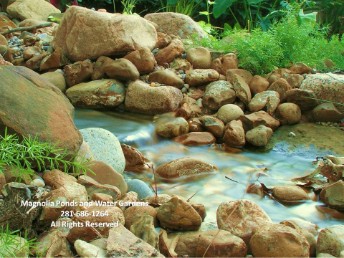 Work and pressure are miles away as you close your eyes and listen to the songs of the environment.
Your children are not inside watching TV; they are outside… They are watching the fish dart back and forth, mesmerized by the flow and music of the gentle babble of the water. They are interacting with nature.
And you think to yourself, "This is so Right."