An Ecologically Healthy Environment
The Magnolia Ponds eco-system pond is a water garden that functions together with its surrounding environment. Difficulty with pond maintenance can happen when a builder does not understand the importance of the biological process that takes place in a pond and fail to build the pond to use the properties provided naturally. It is compounded when builders come from the swimming pool industry to repair or build a pond. It is a nightmare when they try to apply their ideologies of mechanical filtration and sterilization to water gardens. It just does not work. A natural pond needs bacteria and other microorganisms to be healthy. At Magnolia Ponds, we work with Mother Nature and not against her.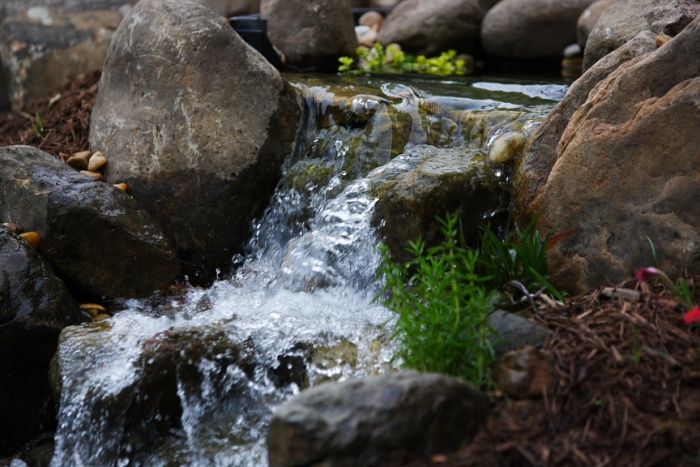 Ponds are one of the most important ecosystems on the planet. They play host to a total interrelationship of all organisms in the environment such as birds, fish, frogs, plants, and many microscopic organisms. So, ponds not only create a natural ecosystem in their defined environment, but they also fit into the community or life cycle of the entire ecological region.
One pond in one backyard may not seem very important, but when you have a thousand similar backyard ecosystems functioning simultaneously, there's truly a positive impact being made on the environment. The population of pond creatures has been declining sharply for many years now. Ponds restore habitat not only to pond life but also birds that have also been driven from many of their natural wetland habitats, which they need so desperately to survive. Your pond will provide a safe haven for these creatures and add a welcome diversity to our stressed suburban environments.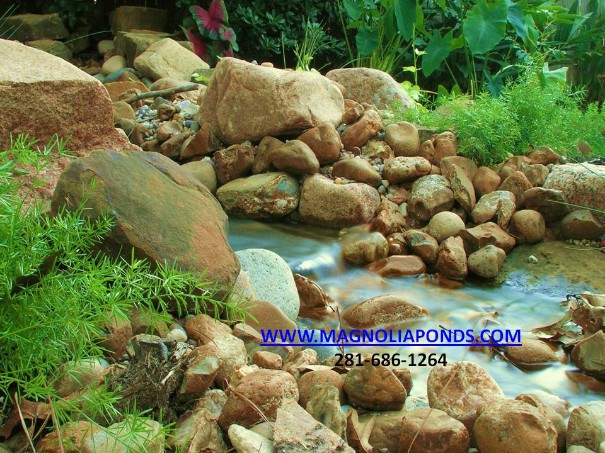 I can't tell you the pleasure and relaxation I feel as I sit beside my own waterfall and stream. The babbling of the water seems to literally suck the tension from my neck as I am transported back to the Great Smokies where I studied water movement in the clear mountain streams.
magnoliapondservice@gmail.com
346-298-9967