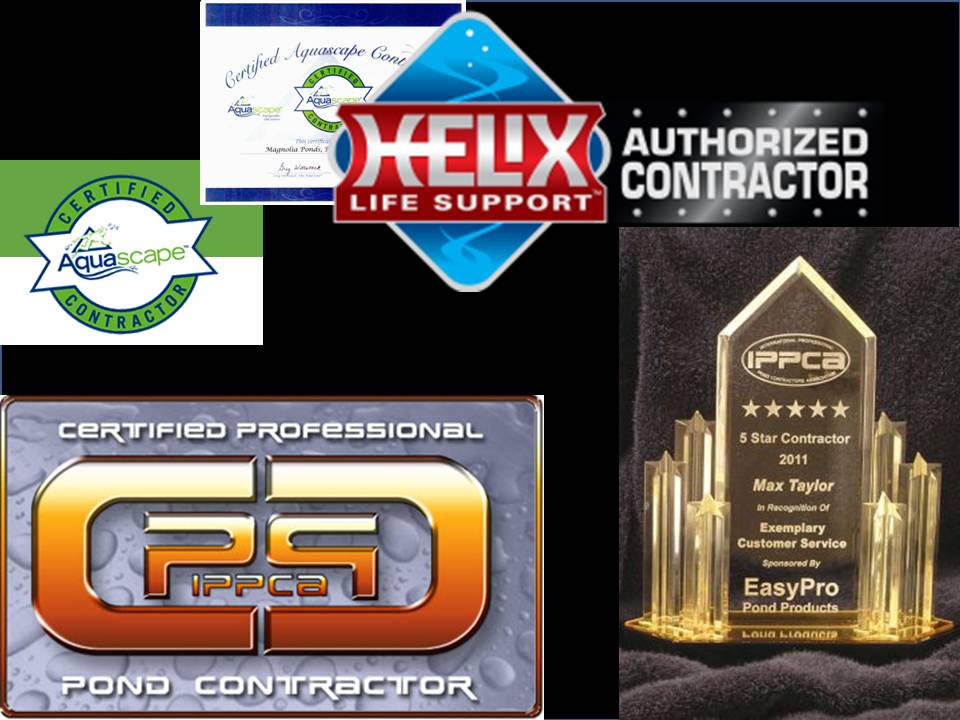 Magnolia Ponds is an
AUTHORIZED HELIX CONTRACTOR.
They understand and install Helix Life Support components on all ponds.
Certification
Magnolia Ponds has achieved the status of
CERTIFIED PROFESSIONAL POND CONTRACTOR, GOLD LEVEL
from the International Professional Pond Contractors Association.
To be certified by IPPCA*, a candidate must
Pass a Better Business Bureau background search
Have a minimum of twelve (12) Customer Satisfaction Rating forms filled out and submitted online by customers.
Proof of appropriate local business license(s).
Proof of a minimum $1 million General Liability Insurance. If insurance expires the CPPC status will be suspended.
Pass Certification Exam with a 90% or better score.
*IPPCA is a non-political organization. This means it is not beholden to any specific manufacturer. Be sure your contractor has been exposed to many schools of thought. A contractor who is captive to only one school of thought loses the benefit of research and development of many outstanding manufactuers.
Max Taylor of Magnolia Ponds also was certified as a CERTIFIED AQUASCAPE CONTRACTOR, AKA a CAC in 2014. Aquascape Industries is a manufacturer of pond products that certifies those who are familiar with their products and knows how to properly install them. There is also additional testing for knowledge of many areas of pond building.
NO CERTIFICATION CAN GUARANTEE
THAT YOU WILL GET QUALITY That always depends on the individual contractor's experience and dedication to the customer. This why you should always check out your contractor in many ways.
February 2019:In National Competition for artistry in Pond Building, Magnolia Ponds won Best Feature Under $15K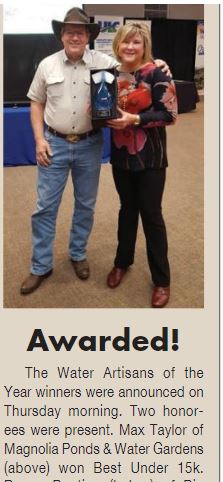 Max Taylor, owner of Magnolia Ponds, received the NATIONAL 5 STAR CONTRACTOR AWARD for Customer Service in 2011. This honor is awarded once per year to a single individual who has shown exemplary customer service in the water garden and pond industry.